AdWords vs. Search Engine Optimization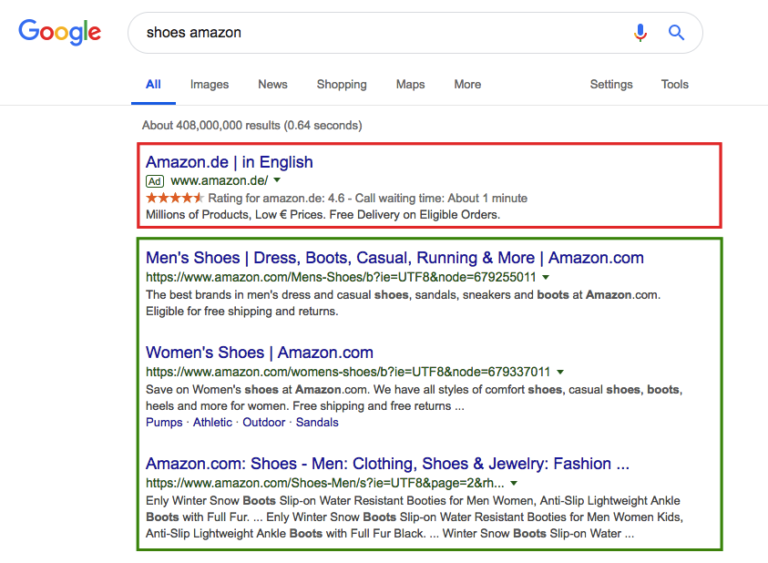 AdWords links are displayed in paid (inorganic) search results and are marked with the green "Ad" shortcut (although this may change). You can see these ads at the very top of search results almost as soon as you've set up your campaigns. It's up to you how long the links are displayed – that depends only on your needs and, of course, your budget.
Search Engine Optimization takes longer, and it results in displaying links in natural (organic) Google search results. However, in order for Google to display a link to your site in response to a specific keyword typed by the user, constant work is needed – you get the expected effects often after a few weeks or even months since the beginning of the process. Everything depends mainly on the industry and competitiveness. However, it can be more profitable than sponsored links (especially in competitive industries).
When to use sponsored links?
Using sponsored links is a great solution for people who do not want to wait and need advertising here and now, e.g. when the season starts and it is necessary to attract new customers or if it is necessary to sell a series of products stuck in the warehouse.
Of course, AdWords can also be a way of a long-term brand or offer advertising. It works great as an independent campaign, as well as an addition to other marketing activities - including website optimization. Check our website optimization offer.
SEO Offer
Effective AdWords advertising
To be able to enjoy an effective AdWords campaign that brings conversions and increases brand awareness, you should know how to set up ads, what to look for and how to choose keywords. It is also necessary to know which places the ads should be displayed at, to whom it should be shown and at what time - all this can be obtained from one Google panel, but getting to know it could be very time-consuming. Just like analyzing a campaign. Therefore, it is necessary to use the services of experts.
Who is AdWords for?
Small, medium and large enterprises that want to be visible on the Internet and gain new customers. In a word - sponsored links campaigns are for everyone who does not want to wait long for the ads to appear, and for everyone who has specific goals. Or for people who just want to build a positive image of their brand.
Where to start the sponsored links campaign?
First of all – you should start with setting business goals because without them it is impossible to properly configure the AdWords campaign. It is necessary to determine the best keywords and subpages that will be displayed to users, to determine the coverage range of sponsored links, the target group and the cost of advertising clicks and many other elements.
At the same time, it is worth analyzing the competition and focusing on their choice of keywords and the way they match - this is often the key to success at AdWords.
Basic definitions about Google Ads (AdWords):
Daily budget
The amount of money an advertiser is able to spend on advertising per day. In a sponsored links campaign, you pay for every single click, and once your daily budget is exhausted, your ads will stop running. So there is no way to exceed the planned amount.
Cost Per Click
Cost Per Click - the amount that an advertiser pays when a user clicks on his ad. It is possible to set a maximum CPC, but the actual amount is usually lower. The higher the quality of the ads, the lower the CPC usually is.
Conversion Rate
Conversion Rate - a very important factor assessing how many people who click on the ads are actually taking action on the site. The higher this ratio, the more effective the AdWords campaign.
Ad targeting
Determining to whom, where and at what time the ads should be displayed. It is possible to target demographics, location, placements and even interests or topics - thanks to this you get full control over your ads.
Conversions
Actions taken by the users of the site who entered it after clicking on the sponsored link. The conversion can be contacting the company, purchasing the product, downloading the file, etc. The number and quality of conversions have the greatest impact on the effectiveness of the AdWords campaign.
Types of Ads
AdWords ads are not just text ads that appear in Google results. Depending on your business goals, you can also go with dynamic, graphical and video ads or advertising for specific products. They can also appear on Google Partners network's websites.
How do users see AdWords ads?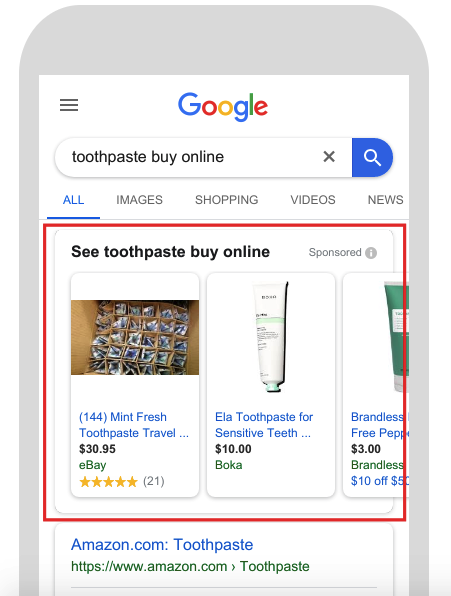 AdWords ads can appear in a variety of ways. The most popular are of course the text versions that are displayed to users in Google search results. In SERP there can also be ads for specific products (product campaigns).
AdWords ads may also have the form of videos or graphics (banners) and may appear on various websites that are part of the Google Partners network or in YouTube videos. The advertiser decides the shape and format of his advertisement - it should be created with accordance to the business objective and the type of promotional activities carried out.
When does Adwords give you conversions?
Primarily - when the ads have the right quality. This means high-quality content, ads matching to the source website, and meeting the needs of potential users. Conversions will occur when the ads are displayed in the right places and to specific people potentially interested in the offer.
Remember that not all conversions are the same - sometimes even a large number of conversions will not be profitable for you, e.g. when your goal is to sell products and customers only download your catalog with the offer. That is why it is so important to optimize the campaign of sponsored links from the very beginning.
What range must an AdWords ad have?
Adequate to the scale of advertising and real business goals. You can advertise all over the country, and you can also go with a single town - it all depends on whether you want to achieve local or a large-scale success.
Remember to define the right target group - you can choose who the ads will be displayed to, for example in terms of interests, age or gender. All this can have a decisive impact on your success at AdWords.
How to adjust keywords?
Choosing the right keywords for a sponsored links campaign is not enough. It is necessary to specify the type of match (e.g., negative, exact, broad) - thanks to this, the ads will be displayed, for example, for more elaborate phrases, including the defined word. Or, on the contrary - they will not be displayed for specific combinations of these phrases!
We will adjust your keywords. Write to us!
How to analyze the results of the sponsored links campaigns?
It is worth combining Google AdWords and Google Analytics accounts - thanks to this, the data from the first one will be sent to Google Analytics, and you will be able to carry out many analyzes and gain information that will allow you to optimize your advertising activities. You will learn everything about conversions, the time users spend on your site or the bounce rate.
The Google AdWords account itself is very useful to analyze - you will find information on the average cost per click of the ad, the number of clicks (in relation to the number of ad impressions), etc.
The Google Display Network
The Google Display Network is a collection of sites belonging to the Mountain View giant, where your AdWords ads can also be displayed - in the text, graphic or video form. There are over 2 million websites in the Google Display Network, so your ads can reach 90% of Internet users!
What is remarketing?
This is a very important advertising method, available in sponsored links campaigns. In simple terms, the ads "return" to users who have already seen them once. The possibility of displaying such ads means that you have the chance to finally get a customer, who previously for some reasons refused the offer, to finally buy a product.
WHAT ARE THE RESULTS OF ADWORDS CAMPAIGN?
You invest consciously
You know how much you pay for a single click on your ad and how much you have to pay for the ad to appear on Google. You also set the daily budget of your AdWords campaign on your own!
You reach a specific group of customers
You also decide who your ads will be shown to, so you can be sure that they are only displayed to people who are potentially interested in your offer.
You appear at the top on Google - whenever and for however long you want
You do not have to wait for weeks for the first effects of the optimization process – you ware perfectly visible on Google right after the AdWords campaign is set up. During this time, you build your brand and gain new customers.
You build the brand and increase sales
Visibility on the Internet is the basis of popularity and better sales. AdWords enables you to achieve this, and thanks to special analytical tools, you can constantly improve your campaigns.
How do we work?
Based on a thorough analysis of your business goals and competition. We use the right analytical tools, and every next step we take is carefully thought out. We have a team of experts with knowledge and experience, which is why we are able to help clients from various industries and regardless of their business goals or the size of their companies. We approach each campaign individually and spend a lot of time on it - thanks to this we are able to gain visibility on the web for you, increase conversions and help improve your company's performance.
How do we prepare a sponsored links campaign?
First, we get to know your expectations, we gain knowledge about customers, business plans, and competition. Then we analyze the market, we look for keywords and we select the best parameters of the campaign, tailored fully to your needs. We create relevant advertising content, exclude unnecessary keywords, take care of the right phrase match, create ad extensions and budgets. Every day we check how the campaign is doing and make the necessary analyzes that tell us what needs to be improved to increase the effectiveness of AdWords.
How do we analyze the results of the campaign?
We use Google AdWords and Google Analytics panels, but we also have our proven tools that not only analyze the results of the campaign but also keywords and other elements that determine the success of AdWords. We monitor the effects of the campaign on an ongoing basis because only in this way can we choose the best solutions and abandon those that do not bring results. Thanks to this, we are able to quickly optimize the campaign and give you real results.