8 places to get FREE links for your website / Link building SEO part 1
Link building is, next to optimization, the most important activity associated with the website SEO. It has a huge impact on the search engine ranking of the site, but there is a catch – a well-built profile of valuable links can rank the site high on Google, but low-value links from questionable sources pull the page down, significantly worsening its value and making it difficult to find by network users. Today, we'll give you a few ideas where to get completely free high-quality links without resorting to methods that are incompatible with the search engine policy.
Online catalogs for companies
Online catalogs for companies – a database of companies operating in a selected field, created to make searching for a service provider easier. They usually collect basic data about the company, such as the brand name, its address and – in this case, the most important thing – a link to the website. Registering your company in the catalog gives you a better chance of being noticed by new customers, and at the same time creates the possibility of placing a link to your website in a valuable place. It is worth looking for thematic online catalogs that gather only companies operating in our industry.
One of the best catalogs is Google My Business – a platform that allows you to create a business card for your company, which will be visible in Google searches and on Google Maps.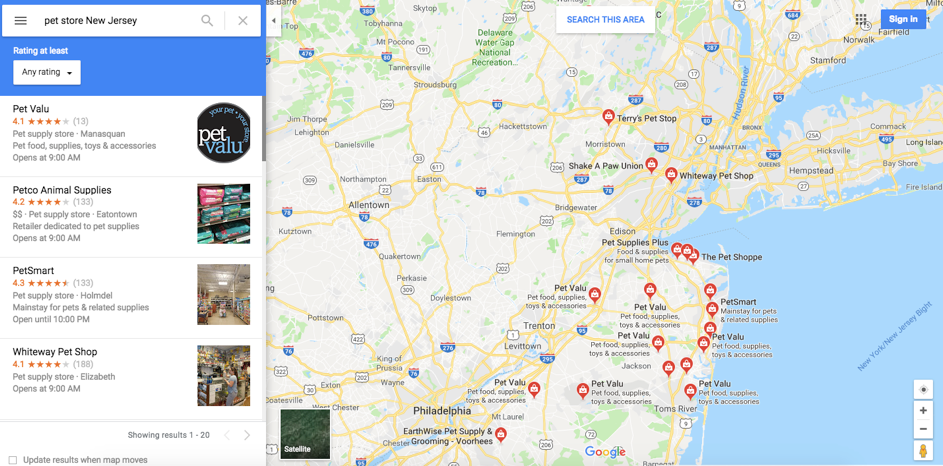 On the left are business cards, visible after entering the phrase "pet store New Jersey".
A business card in Google My Business can contain a lot of information that is useful to customers, such as opening hours, contact phone numbers and reviews. Thanks to the possibility of linking it with Google Maps, the company along with the address will be visible on the map when searching for a phrase related to it by the client. In the business card, there is also your website address in the form of a link.
Social Bookmarking Sites
Social bookmarking sites are websites where a community of users saves and tags links to their favorite websites, articles, blog posts, photos, and videos. Categorizing websites by ordinary users of the web naturally "links" the linked website with markers that define its subject and content. These types of services allow users to share interesting and useful materials they found on the web by linking their sources. This is a great way to attract a wide audience to your content – and a great place to get a strong link for your website.
Examples of social bookmarking sites are:
– akonter.com, where users post interesting articles and link to the websites they come from; these materials are visible to other users who can "like" and comment,
– pinterest.com, a platform that collects photos, graphics, and short videos; allows users to share materials that can be "pinned" by them on their accounts, under the appropriate designation chosen by them,
– reddit.com, an extensive portal where users link to articles, photos or videos; it allows the users to share and comment on the materials. Users can browse the content through tags or by searching among the most popular content on the site.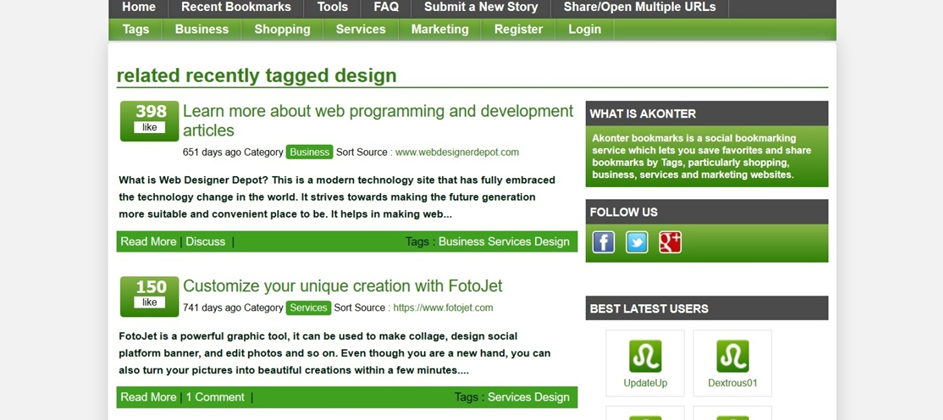 Source: akonter.com
Social media
Social media can be a powerful tool that allows you to build the image of your brand. They can also be a great, valuable source of natural links that users make available if they find their content interesting. Valuable, unique content is of great importance here – the more people find it useful and worth sharing, the more links we can gain.
Examples of social media platforms on which to set up an account are:
– Facebook, the largest social networking site, where users can create a private or business account, observe other users and share content,
– Twitter, a site where you can share short messages, also containing links, with appropriate tags.
Social media: Build your brand imageAllow for creating communitiesGive you the opportunity to get natural, high-quality links
Discover other ways
It's not over yet – we've found some other solutions for you to get free links for your website, which we describe in the second part of the article. You will learn, among other things, how to use blogs for link building and you will discover places where large online communities look for content related to the industry in which your company operates. Also, in the second part of the article, we give tips on how business contacts can be useful when building a link profile.